Harvey King & the Grindstone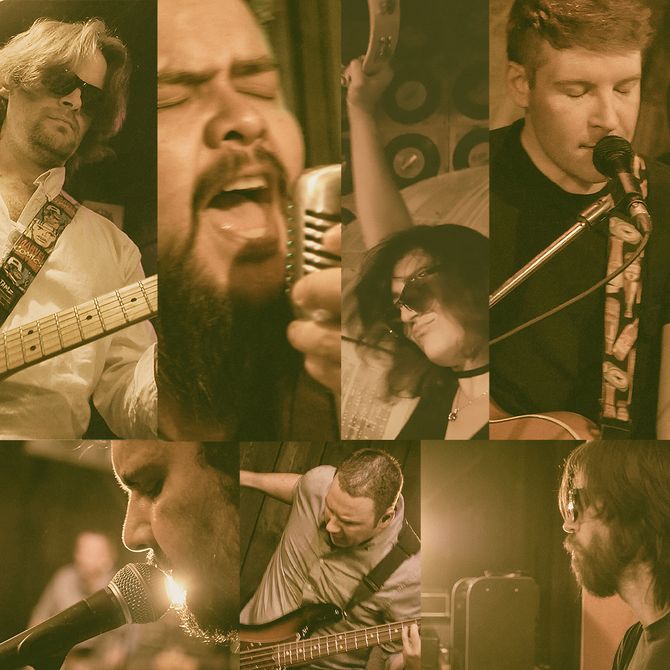 About HKGS
Harvey King & The Grindstone began as a passion project of vocalist Will Himsl and guitarist Sam King. With humble beginnings in the basement of a downtown barbershop, proving as an excellent rehearsal space, the two began writing material in late 2018. 
Recognizing the opportunity to fuse soul and rock and roll, this duo recruited local artists, with Alex Pauzé on drums, Matt Saroka on lead guitar, Sean Brouse on bass, Kris Harris on keys, Andrea Solski and Darquise Lauzon on backup vocals. The group began crafting the songs for what would become the EP and the upcoming LP. 
HKGS released its first EP – "Bigtime" on July 30, 2021. Tracked at Lala Pop Shoppe in Sudbury, ON by the talented Dany Lajeunesse (of Dany Laj and the Looks), and mixed at Bigtime Records & 2Berners Studios by Sam King and Sean Brouse. The four-song EP offers a glimpse into the energy and diversity of the band's stylings and previews their full-length album. 
The band released its first video for the single 'Get Gone' on August 6, 2021, which was filmed and produced by Justin Lamothe, Josh Desormeaux, and Curt Carriere of Midnight Society Productions. 
HKGS's first full length album titled Ever After, released on July 1st, 2022. Accompanied by a video for their first single 'Six Feet' filmed by Justin Lamothe of Midnight Society Productions. The LP was tracked, mixed and mastered at Deadpan Studios by Matt Wiewel.  
HKGS is currently writing material for a new album.
HKGS is:
Will Himsl - Vocals
Sam King - Guitar, Vocals
Sean Brouse - Bass, Vocals
Matt Saroka (In Spirit) - Guitar
Kris Harris - Keys, Vocals
Alex Pauze - Drums
Andrea Solski - Vocals
Upcoming Dates:
Coming soon!